Prior Art Search
Rapid Prototyping
Test Fixture Design/Construction
Field Testing
Customer: Mobile Re-fueling start-up (Netherlands)
Problem: When re-fueling vehicles, there was a risk of dripping fuel on customers' property.
Solution: Create a device that could be retrofitted on to a fuel nozzle to prevent and/or capture excess fuel. 
Approach:
1. Prior Art Search – After performing a technical review of products in this design space, it became clean that an innovation was required to solve this problem.  Initial design concept included septa style seal, retractable bellow, and recycled absorbent strip.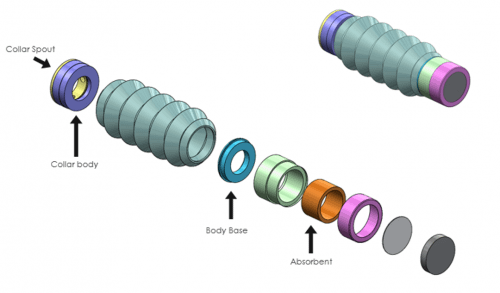 2. Rapid Prototyping – Prototypes were created and tested daily, with optimizations worked into each iteration.  An FDM style 3-D printer and laser cutter were utilized to build these rapid prototypes. 
3. Testing – Phase one testing was conducted on a standalone test fixture.  Phase two included trials with passenger vehicles using both gasoline and diesel fuels.
4. Deliverables 
12 fully functional prototypes were delivered to the Netherlands-based customer for fatigue life testing.
US Patent filing: 'Dripless Adaptor for Fuel Nozzle: US WO2018169845A1